BNP Paribas Fortis has just launched a secure 'Open Banking Portal', which gives external developers easy access to all the information they need to develop digital solutions using the Bank's APIs.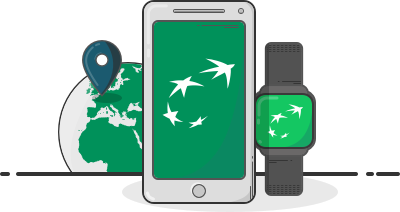 The shift towards 'open banking', driven inter alia by the revised Payment Services Directive (PSD2), is prompting banks to open up their information systems to Third Party Providers (TPPs). In line with this evolution, BNP Paribas Fortis is pleased to invite the community of Fintech companies and external developers to join its Open Banking Portal (https://developer.bnpparibasfortis.com) in order to develop new services for customers.
BNP Paribas Fortis is now making available to third parties on this portal all the technical documentation needed to develop digital solutions using BNP Paribas Fortis application programming interfaces (APIs*). From 14 March, technical information will also be available for Hello bank! and Fintro.
In addition, the portal enables developers to connect to the 'sandbox', a test environment designed to try out new services using dummy data. In the sandbox, third-party developers will be able to test the Account Information Services (AIS**) API, which allows access to account balances and history via third-party applications, and the Payment Initiation Service (PIS**) API to initiate payments via third parties.
Going forward, additional BNP Paribas Fortis APIs will be made available on the Open Banking Portal. New services and functionalities will also be added to the portal and the test environment so as to continually enhance the Open Banking Portal.
BNP Paribas Fortis opens up APIs to developers
Any developer may now register on the BNP Paribas Fortis Open Banking Portal and begin testing the APIs in the sandbox.. However, to lauch new services based on the Bank's PSD2 APIs, a Third Party Provider must first obtain certification from the national regulator (in Belgium: the National Bank). The trusted TPP will then need to present its certification to BNP Paribas Fortis and obtain user consent in order to access customers' accounts or initiate a payment. BNP Paribas Fortis will never grant third parties access to its customers' bank accounts or initiate payments without customer approval.
. Explained Michael Anseeuw, General Manager, Retail Banking at BNP Paribas Fortis "In opening our portal, we're inviting innovators and Fintech firms to come and test their solutions in a secure environment, enabling them to subsequently offer customers new tailored services. This portal will help to forge an ecosystem of Fintechs, partners and external developers with a view to building new applications to meet the needs and expectations voiced by our customers."
Tom Hansen, manager in charge of the Open Banking Portal, added: "With this portal we're providing a tool designed to support innovation. It has been built with and for developers and we'll continue to improve it so as to ensure a real development experience. The launch of the portal is an important step in BNP Paribas Fortis' journey towards Open Banking."
*API: application programming interface, which allows a user to connect to an application and access the application's services and data in a structured manner.
** AISP: Account Information Service Provider / PISP: Payment Initiation Service Provider.