BNP Paribas Fortis, Hello bank! and Fintro customers who own a Fitbit (NYSE: FIT) or Garmin wearable device with payment capabilities will now be able to use it for fast, convenient and secure purchases, for no extra charge. These digital tools join the range of payment solutions provided by BNP Paribas Fortis in a digital wallet, unique in Belgium, that contains , including Apple Pay, Google Pay, Payconiq by Bancontact, Fitbit Pay, Garmin Pay, contactless bank cards.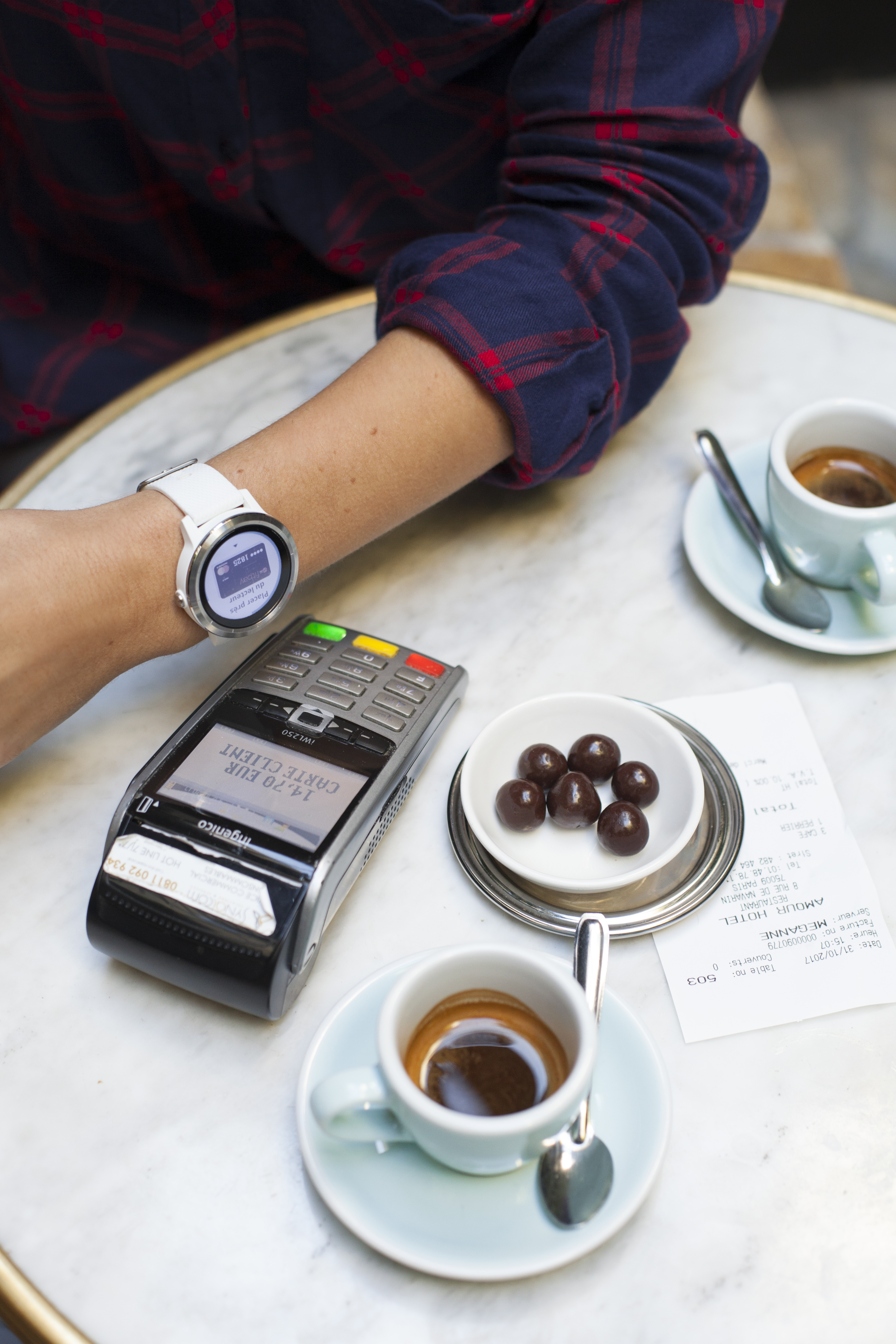 'Contactless' transactions via debit cards and credit cards, enabling people to make payments to retailers and other traders, are becoming increasingly popular in Belgium. BNP Paribas Fortis, Hello bank! and Fintro have now taken a further step towards meeting this growing demand for innovative ways of paying for goods and services by incorporating two new solutions that allow customers to settle up at stores and other outlets with just a sweep of the hand.
Customers can now pay for their purchases with a debit card or a Mastercard or Visa credit card, via a compatible Fitbit* or Garmin* connected heart-rate monitor or other 'wearable' electronic device. These new partnerships demonstrate BNP Paribas Fortis' determination to take an innovative approach to meeting its customers' needs in the payments space.
Designed for people 'on the go,' Fitbit Pay and Garmin Pay enable customers to pay quickly and effortlessly for their purchases in a secure manner. For example, these contactless payment solutions make it easy for users to stop and buy a bottle of water after their morning jog or order a quick coffee on their way to work. This fast, highly convenient and secure solution, totally free of any extra charges, means that a user no longer has to take out his/her wallet or smartphone in order to settle a purchase just before, during or after a sports session or while going about their day.
Confidentiality, security and accessibility
Both Fitbit Pay and Garmin Pay have integrated security standards. All payments are sent in encrypted form and whenever users pay with Fitbit Pay or Garmin Pay their data is not transmitted either to the trader or to Fitbit or Garmin, nor is it recorded on the device itself, but remains confidential. Once the debit/credit card is linked into the connected device, the owner will need to use his/her PIN code for the first transaction. Following the first purchase on a given day, provided the watch remains on the user's wrist (**), s/he will not have to tap in the PIN code for subsequent purchases during the next 24 hours. For reasons of security, a 24-hour limit is placed on this feature, after which the user will once again have to enter his/her PIN code for the card in question.
In addition to security for purchases and confidentiality, these solutions also have the advantage of widespread access, given that more than 85% of all payment terminals in Belgium are now equipped with contactless functionality. Payments through Fitbit Pay or Garmin Pay are not restricted to this country; these solutions can be used abroad wherever the contactless payment symbol is found on the payment terminal, regardless of the amount of the transaction.
Last but not least, when customers use these connected devices, they continue to enjoy all the advantages conferred by their bank card, including guarantees, insurance coverage, points, miles and so on, without having to take out their wallets.
"Engaging in sports, moving around, going about your day and making payments as needed are now easier than ever for our customers," pointed out Michael Anseeuw, General Manager, Retail Banking at BNP Paribas Fortis, underlining: "By adding Fitbit Pay and Garmin Pay to the digital wallet, BNP Paribas Fortis is enhancing its pioneering role in the world of payments, enabling customers to take a further step towards a 'cashless society' through the use of fast, convenient and secure solutions."

(*) More information on how the payment option works and on compatible watches and activity trackers available at:

www.garmin.com

(**) Only for Garmin
Linked Files