OUR TALENT PROGRAMMES
Invest in your talents with our Talent Programmes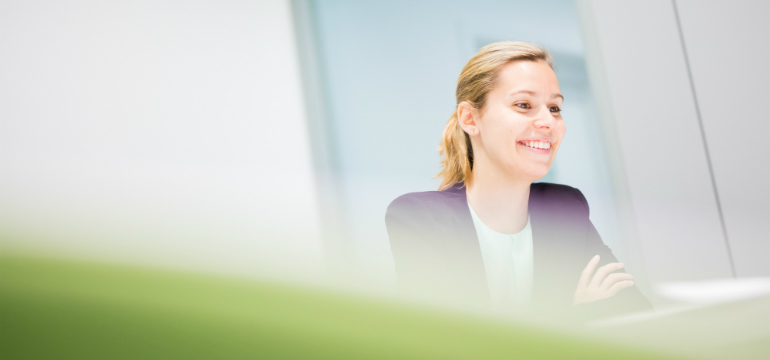 Freshly graduated and ready for challenges? Our Young Talent Programmes are made for you:
Onboarding
During the first hundred days of your Talent Programme, you'll become BNP Paribas Fortis proof. You'll experience our vision, values and attitudes at close hand and you'll begin charting your personal development plan and building your network.
Assignments
True learning happens on the job. Through a series of assignments in different business lines or departments of the bank, you will have a broad impression of the banking world and insight into your chosen area of expertise.
We'll assign you to a range of projects. This will allow you to grow, keep on raising your sights and to make many useful contacts. At the same time, you'll be continuously focused on your personal development. Hard work, in other words. And way beyond your comfort zone. But ultimately, a fascinating experience.
Of course you'll receive plenty of support along the way – that's what this Talent Programme is all about, after all. The other talents, your colleagues during your assignment, your assignment manager, your coach, the trainers during the sessions that you follow... They're all there to support you.
On your way to your first job
Each assignment is an opportunity to get to know new people, business lines and departments. These are ideal contacts to help you carry out your first job effectively in the near future. Because that's the goal, after all: the chance to apply your skills, experience and knowledge in a permanent job. What job that will be depends on the specific emphasis you choose in your Talent Programme, and on the business needs at that moment.
It doesn't stop there
Talent Programme finished? You've made yourself indispensable to our bank? Then it's time for your first job. This will be in line with your programme and your interests, to the extent that they can accommodate the current business needs.
Commercial traineeships

The banking industry is evolving rapidly! As a talented young graduate, today is more than ever the time to be part of that changing world. Providing innovative and smart advice to our customers will be more important than ever. And that is exactly what you will learn in this traineeship.

Expert traineeships

A bank can never have enough experts on its side. Taxation, law, HR... Plenty of professional fields in which to excel. How do you make the shift from diploma-knowledge to real-world expertise? Simple: lots and lots of training and learning more from your fantastic colleagues. That's your traineeship in a nutshell.

Our ORMIT Traineeships

ORMIT is our highly specialized trainee-partner, helping us in the search for young talents. Together, we bring you the incredible combo of interesting projects and a fantastic personal development programme. Are you ready to be challenged and to discover the best version of yourself?
Anne-Charlotte

Our bank needs talented starters and young professionals. Future leaders who will set the scene and inspire others with fresh ideas. Anne-Charlotte is one of them.

Gilles Swinnen

Do you want to become part of a close community of starters and grow rapidly? Then our traineeships are right up your alley! Gilles will tell you all about it.